0-4-4 Forney #2 'Maggie'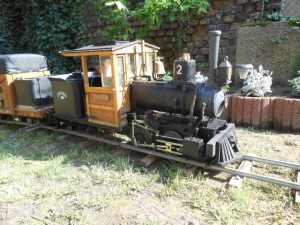 Two locomotives of this kind were the first engines on the BCL&RR. Forney #1 "Christine" got lost in a rock slide in 1914, while #2 "Maggie" is still in service. It's most seen in freight and passenger service today, but originally the engine hauled heavy log trains out of the woods. She's a real all-rounder and runs very well. The Forney is used on the leveled track between Camp 2 and the mill, while the Shay will operate on the high lines.
As many other steam locomotives in logging operation, this little steamer was also rebuilt for logging specific operation. Actually, the crew spends a lot of time to this engine to keep her in operational status for a long time.
The model
The basic model was built by TJV in Barcelona (Spain) as a 0-4-0 Koppel engine in 1983. I bought her second-hand January 2006.
The loco is equipped with a cooper boiler and is coal-fired. With only 50 kg, the loco can be handled alone, but it's also strong enough to haul heavy log trains. In 2013, I spend a big maintenance and replaced some seals and fixed smaller issues. I guess she's fit enough now for the next 30 years.