0-4-4 Forney #2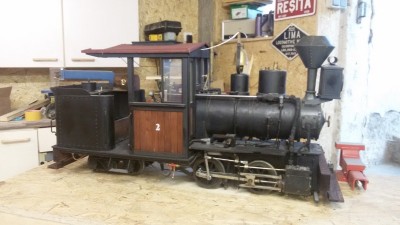 Forney locomotives were a compact variant between a simple 0-4-0 steam loco and an 0-4-0 with tender. It's a lightweight steam loco with large bunkers for water and fuel and can be used good in both directions. Similar locos were in service on the famous 2-foot-railroads in Maine. Due to the original construction, they need wide curves and are not very good on poor track. Anyhow, some of them have been in service on logging lines as well.
The model
The basic model was built by TJV in Barcelona (Spain) as a 0-4-0 Koppel engine in 1983. I bought her second-hand January 2006 and spend several rebuilds over the past years.
The loco is equipped with a coal-fired cooper boiler. With only 55 kg, the loco can be handled alone, but it's also strong enough to haul heavy log trains. In 2013, I spend a big maintenance and replaced some seals and fixed smaller issues. I guess she's now fit enough for the next 30 years.