10 ton Class A Shay #1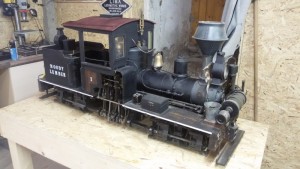 Shay locomotives were typical logging locos used in the US and worldwide. E.Shay was looking for a special steam loco design, which was able to negotiate rough track as well as tied curves. He spotted that truck-based cars perform better on such tracks than regular rod-type steam locos did. So started to invent some prototype, which was later developed into the famous Shay locomotives by Lima in Ohio. The Shay might be the most famous logging locomotive in the world. The special drive mechanism with the universal joints and bevel gears make this type of locos very strong and perfect for hauling heavy logs.
The model
This Shay was my first homebuilt steam loco in 2″-scale. Beside the boiler and some ready-to-use parts, I made all parts from stock material. There's a separate website with the building-log of this loco online.
After 4 years, the maiden run of this loco was in September 2012.
The empty weight of the loco is 72 kg (154 lbs), 77 kg (165 lbs) with water and fuel.
The 2-cylinder engine has 30mm bore and 30mm stroke.
The gear ratio is 2:1.
The loco is equipped with injector and hand pump.
The steam brake is functional.
The steam gypsy winch is functional.