13 ton Class A Shay #1 'Amy'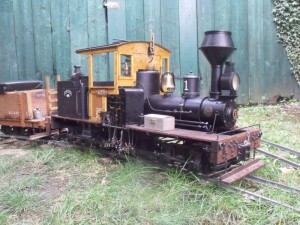 In 1915, the BCL&RR bought a damaged T-boiler Shay second-hand to replace the lost Forney #1 (hardly damaged in a rock slide). The loco was rebuilt in the own workshop and came into service on the logging lines.
Shay locomotives are typical engines for US logging railroads. The patented construction with trucks, universal joint drive shaft a bevel gears makes this locomotive to a great engine for rough track, steep grades and sharp curves.
The Model
The Shay is my first self build steam locomotive in 2″-scale, while the Forney #2 is just a rebuild of a second-hand bought Koppel engine. I made an own documentation during the construction of the locomotive.
After 4 years, the maiden run of this loco was in September 2012 and the loco is now ready for service on the BCL&RR.
The empty weight of the loco is 72 kg (154 lbs), 77 kg (165 lbs) with water and fuel.
The 2-cylinder engine has 30mm bore and 30mm hub.
The gear ratio is 2:1.
The loco is equipped with injector and hand pump.
The steam brake is functional.