Posted by Gerd on Wednesday, 14 January 2015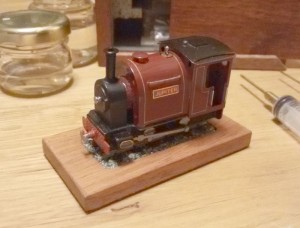 Hello,
the logging railroad Eusserthal (WBE) is proud to present the newest locomotive in the engine shed. I could by this little 0-4-0 saddle tank engine on y convention last weekend. The special thing is – it's a live steam locomotive !!
Brian Caton from GB made round about 40 of these little gems and 35 of them were sold over the years. As I got the hint that this loco was for sale, I couldn't resist.
The loco was delivered with a nice wooden box which includes the needed accessories as well.
The tiny boiler takes 1,25ml distilled water and is fired by a tiny spirit burner. After a short steam up time, the engine runs for about 8-10 minutes on model speed. The power unit is a single cylinder steam engine mounted in the cab. This steam engine is equipped with a slip eccentric and can run in both directions. All in one, the technique behind this little steam locomotive is really great. I'll show more of the loco and details on an own page in a few days, which will be posted in the menu bar on top of this page.
At the moment, I'm thinking about how to use this loco on my layout. For the beginning, I put her on the WBE roster, but maybe I'll buy some of the new Peco 4-wheeled wagons and make a tiny "live steam only" layout in Welsh style. Anyway, I look forward to run her on my layout for the time. By now, Jupiter has been steamed up 4 times on the kitchen table…