Posted by Gerd on Monday, 9 May 2016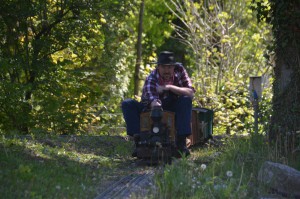 Hello,
last weekend, we visited the steam-model-club of Switzerland with their famous 5″-gauge layout at Zurich. This year, we had mixed local train behind our Shay instead of the log train wich we used to run in the past. The weather was very nice and we had a very good time… until Saturday… The loco derailed badly on a broken turnout and got heavily damaged. We couldn't repair her in place and even at home in my own shop, it will be a lot of work to get her back into service. But first of all, here are some photos of our train on the track and of the layout itself.
As mentioned above, Shay #1 derailed on a turnout on Saturday. The throwbar was broken and the tongs/points were not aligned correctly. The Shay ran straight into the turnout and derailed, while the front truck was twisted to the right, more as it should do. Usually, the front bufferbeam acts as a stop blog for the trucks. The heavy derailment forced the truck much more to a right twist as the universal joint could take and finally, the drive shaft broke at the front trucks universal joint. By this, the steam engine got also badly damaged, while the drive shaft also caused bad force to the crankshaft which got bend at the area of the excenters and finally even bend the main steam engine mount, while the right steam cylinder is out of alignment. The repairs will take some more time.
At least, this was a very authentic damage to my Shay, which was typical for this locos. Later, Lima used the massive crankshaft housing which gave much more strength to this part of the steam motor.
Due to the derailment, some of the cars got also damaged and it seems, that I've to repair all my 2″-scale stuff… Well, I was going to spend some more time on my logging railroads, but definitely not this way…
But I was able to console myself by running Georges huge steam traction engine. What a great feeling and experience. I've to admit – I feel in love a little bit… You don't need tracks… no derailment… ;-)
Regards, Gerd