Posts by date
Posted by Gerd on Saturday, 25 March 2017
(Comments Closed)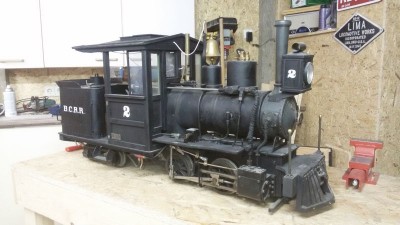 Hello loggers,
since the car roster is mostly done, it's time to spend some attention to my Forney loco. Last year, I spend a rebuild to make her look "Maine style", which doesn't match the new logging approach anymore. The new logging Forney at the Moody Lumber Co. should be more solid ans sturdy and should match the Shay in paint-scheme as well.
First steps were the end beams which got changed to massive wood beams with run boards, which were ideals when shunting log cars. As on many Porter locos, I added single pocket Link & Pin coupler heads on std. coupler height.
To change the pilot, I had to remove the boiler, which is no big issue for me due to regular training. The new pilot makes the loco shorter and more compact looking, just perfect for a logging engine.
After re-assembling the loco, I overhauled the cab. The roof was painted oxidred as on the Shay and I added boards to the sides which got stained in brown just as the pilot and end beam. Once all the paint was dry, I added road number #2, which will be all the lettering on this engine.
Now the Moody Lumber Co has both locos in service for the upcoming season.
Bye, Gerd