Posted by Gerd on Thursday, 7 January 2021

Hi folks,
six years ago, I got the chance to buy a rare Brian Caton live steam loco in 009-scale. I once saw his great little engines in action more than 20 years ago on a convention, but I was never able to get one.
Since than, my little "Jupiter" was running solo either on my especially built Egger-Bahn micro layout ot the "Travellers Table Top Tramway". In December 2020, I decided to expand my small 009-adventure and to add some more bits.
The first project is a small locomotive, powered by batteries and RC. The live steam loco will short any track power and the small Egger-Layout doesn't use track power at all. Some years ago, I already converted a Minitrains Gmeinder loco which worked well.
So, I did some research on the internet and found a RC39 kit provided by Five79. This Kerr-Stuart "Skylark" kit turns out nice on a Minitrians F&C chassis.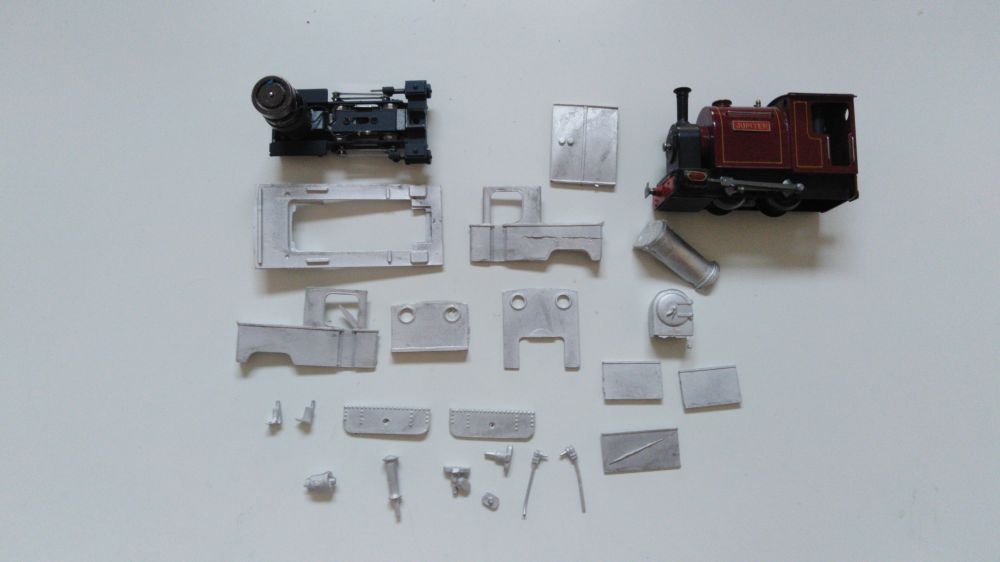 First, I cut the frame to match the chassis. The prototype Skylark is an 0-4-2 loco. Since mine will end as 0-4-0, I decided to cut off the rear coal bunker. This will also match the style of the Caton loco.
All joints got filled with putty and sanded smooth for a perfect finish later.
Next, I had some troubles with the buffers in the kit. They looked de-formed and didn't work well with Peco 009 couplings. I checked my scrap box for replacements, but couldn't find something that would fit. Could I have some buffers as used on the Caton loco… Wait a moment…
I measured the buffers on the Caton loco and made a pair out of steel and brass. I used the lathe and mill to make the tins parts. The shaft on the buffer is 1.7mm in diam. The parts are assembled by press-fit and glued to the frame with the rear 2mm shaft.
The next post will show details on the new made boiler for this loco.
Cheers, Gerd