Let's continue construction on the Budapest project ;-)
It's time to get the main frame assembled. The sheets for the front and back were made from ABS plastic again by using the same tools and techniques as on the side frames. I added diagonal U-profiles inside the frame to support the couplers, as it's found on the prototype. BTW, the couplers are the only 3D-printed part on this project.
The rail guards are bent from brass and screwed in place. Now it's time to add the motor unit and all the rods and valve gear. It took quite a while to get everything running smooth. The outside frame limits the side travel of the wheelsets and at the end, I added 0.5 shim washers to reduce the travel. Due to the limitations, the minimum radius of the chassis is 120cm (4)' which is still less than the prototypical 150cm it would need.
Beside the changes on the valve gear excentre I showed last week, I made some changes to the link hangers as well, changing the overall look more into Stephenson valve gear. The support arc for the cross head guides are assembled with brass angles.
I also shortened the side rod from the cross head to make everything fit. Now the main chassis is done so far. Many details are still missing, but I look forward for some trial runs. But I'm getting there step by step…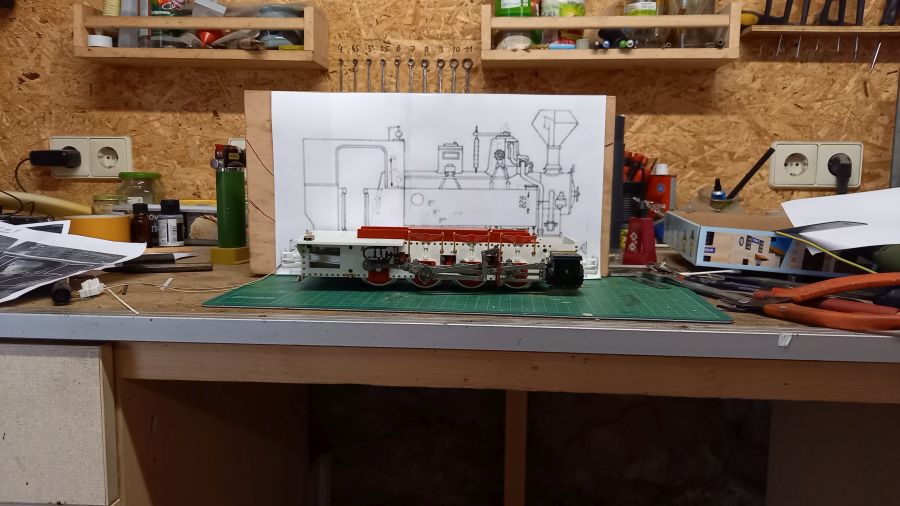 Gerd