Hello my friends,
today I like to solve the open question from last week, regarding the dead-end photo.
Since last year, I was looking for an additional log landing side as well as run-around siding. Basically it's possible to turn trains on the wye, but especially on my Romanian rolling stock, I take care to keep the important stock in the correct direction, like the aux-tenders, which will work only in one direction.
The new siding is placed along the white wall at the right side of the upper garden. There were several reasons to choose this area, as the track is mostly level at this section and it's located near "the end" of the loop, when running straight up the hill at the wye. The "tail track" will lead back to the wye 2-3 metres ahead. This creates a lot of operational concepts for both logging railroads. More on this will be shown in next weeks post.
The Playmobil house will be replaced by some kind of section house later, maybe to different structures for US and Romanian scenery.
Bye, Gerd
Hello folks,
I got some remarks, that my "forestry railroad" is missing trees. As my wife has reorganized the flower boxes along the house, I was able to get two small conifers, which got planted at the wye. One of them was very dry, let's wait if it will come back to live.
When we moved two our new home, we also moved some concrete planters from the old yard. One of them was already home of another conifer, which might fear any gardener. But this tree was a perfect match for the wye in my eyes. So I removed the tree from the planter with heavy equipment and placed right into the center of the wye. This gives the whole scene a totally new look and the wye turned into a beloved photo spot.
Since trees are growing at the wye, the other side looks more like a dead-end. What's going on here?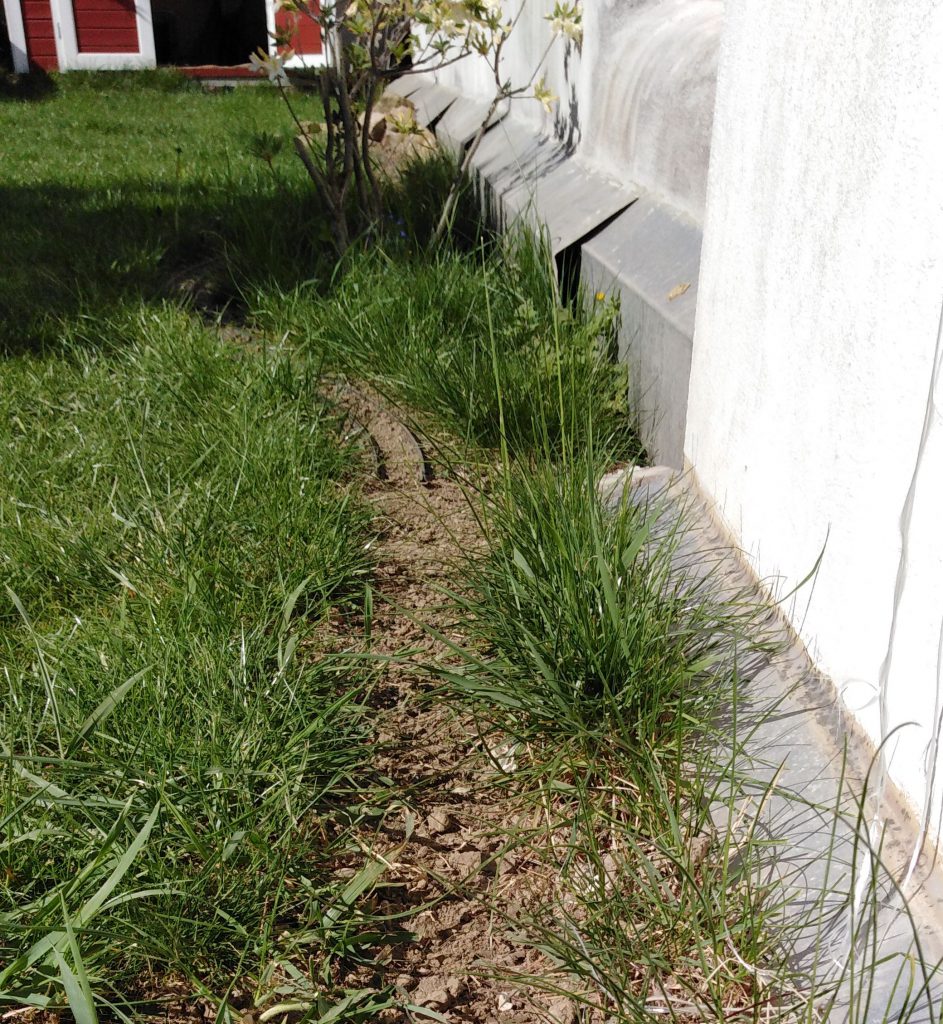 Cheers, Gerd
Hi folks, as shown in my new video a few days ago, I finished the mainline on my garden railroad. Shay #7 got the honor to deliver the last section of track, including the "golden rail joiner" to close the loop in the upper garden. I spend a lot of thoughts for the final route, […]
Hello, a few days ago, I finished my garden railroad nearly by accident. I took me some while to find the final track plan, but once chosen, the tracks were laid within two days. I look forward to post a more detailed blog article soon. Anyhow, here's a new movie from my railroad, not only […]
Posted by Gerd on Tuesday, 18 June 2019
(Comments Closed)
Hello garden railroaders, it'S time to share some hews from my garden railroad. First of all, I operated some trains with my 3-truck Shays. Since I finished the new log cars, I can run two full trains. Last time, I extended the tracks on the left of the garden and now the rails have reached […]
Hello logging and garden railroaders, this week, I'm a bit late with the update, but I've some news on the garden railroad tracks for you. I spend a lot of thoughts about some kind of a continuous run in the upper garden to have the possibility of "long distance" runs. I took the level and […]
Well, this might not be related to "logging railroads", but it's an important step into further extensions of the garden railroad. My wife asked for a raised bed for veggies and we also wanted a garden shed for tools and stuff in the back of the upper garden. The raised bed is homemade from stock […]
Hello folks, since I missed to post an update last week, here's the latest progress on my garden Railroad. Last year, I did some experiments with some cheap artificial grass on my layout which was not the beet one. This year, I found a new material with nice grasses which looked much more promising. So […]
Since the wye at formerly "Strawberry Hill" turned out as some runaround and shunting station for logging railroad operations, I made use of good weather and finished the tail track. First I set some lawn edge stones along the fence foundation. From a friend, I got two concrete window lintel and used them as base […]
Posted by Gerd on Tuesday, 19 February 2019
(Comments Closed)
Hello logging railroaders, after my drift into the Colorado narrow gauge world during the last weeks, it's time to return to my favorite logging railroads. The good weather outside motivated also to take the "Louise Valley Lumber Co." out into the garden to do some operation. While I was shunting trains in Ronja Springs, I […]