Hello,
during the last months, my Louise Valley Lumber Co. acquired two 3-truck Shays for heavier log trains. Originally, both were "oil-burner" and got defined to be the "2nd generation" of motive power at the LVLC. Later, I converted both to coal-burner as I like the look of Shays with diamond stacks more than the "plain" oil-burner. But I was still not satisfied by the concept and the fact that I didn't have enough capacity on my railroad to operate two 3-truck Shays as well as two different types of fuel.
So I took the advantage to sell my Bachmann 3-truck Shay and focus on my LGB/Aster es WSLC #12 engine. I spend a lot of effort to remove the oil bunker and replaced it by a load of fire wood. I also added an extra wood bunker to the tender, based on the Oregon Lumber Shay. Finally I added some details here and there as well as a diamond stack.
The last step was the weathering part. I wanted the new loco to match engines 4 & 5, which once got airbrush weathered by the late Mac McCalla. I met him a few times in person and I learned a lot from him about airbrush weathering. I was afraid in starting the project on such a big loco and especially with the goal to match the perfection of Mac's work. At last, my fear was footless as the result shows. I also added a small tribute to Mac.
Since I sold the other 3-truck Shay, this one now got the final road number 6 and is now ready for service. I really like the new look of the engine. This is, how a hard-working Shay should look like in my opinion ;-)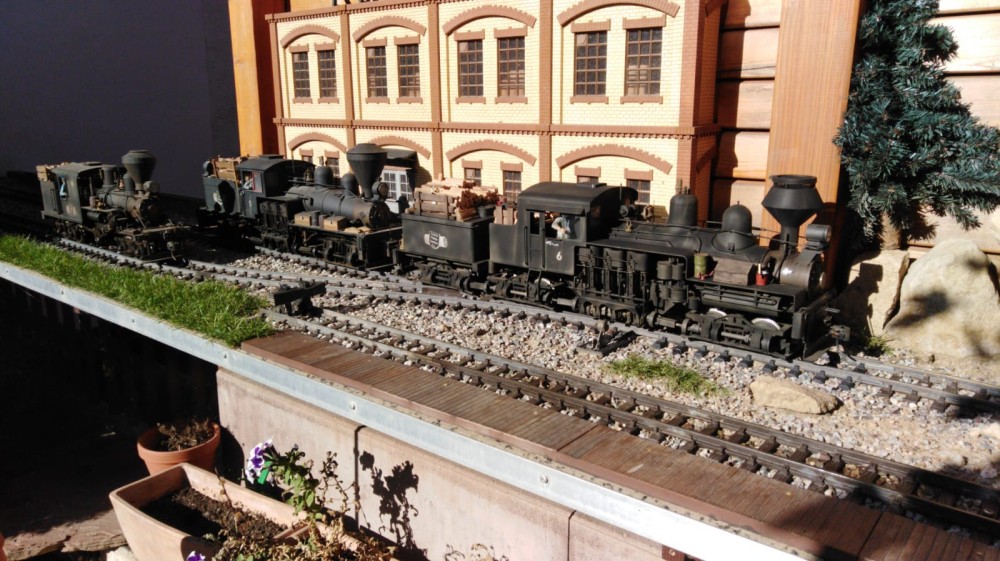 Cheers, Gerd
Posted by Gerd on Tuesday, 21 May 2019
(Comments Closed)
Let's continue with the logcars. Unfortunately, I forget to make pictures of the assembling part.
The couplers are screwed to pieces of thin plywood together with the cover plate from brass. This sub-assembly is glued into the pockets at the end of the center beam. the log bunks are also glued into place. all wooden parts were stained with thinned acrylic paint.
Once the glue is dry, the remaining hardware is installed with nails or Ozark-NBWs. The brake wheel and ratched were Ozark parts as well. With the trucks in place, the first car was ready to form a 6-car test train with caboose, freight car and Shay. The train-length looks plausible and will fit very well to my layout.
The following evenings, I assembled the other six cars. Still missing is the airbrush-weathering, which will be done some day in the future. With all new cars finished, I ran the first 12-car-train with Shay #6. Looks pretty cool in the long S-kurve.
Hello, since the exhibition in Lille has passed, I'm back on my garden railroads. When I introduced my 3-truck Shays some while ago, I noted the need of mode skeleton log cars to run longer trains. I spend a lot of thinking, using the same pattern from the first cars, or a different one. Finally […]
Hello Shay-lovers, one year ago, I got the chance to buy another Shay for my garden railroad, a Bachmann Spectrum Class C 3-truck Shay. Once arrived, I re-lettered her several times for different railroads and swapped between wood and oil burner multiple times. And I was never sure how to add this loco into my […]
Posted by Gerd on Tuesday, 24 July 2018
(Comments Closed)
Good morning, since I got the two Bachmann "geared steamers", many years ago, I was in trouble with two different fuel types on a single logging railroad. While the Shay was equipped with a wood load, the Climax was a coal burner. Now I found the time to rebuild the Climax as well. I still […]
Hello, since I seem to be in "Logcar-buliding-mode" at the moment, I just switched scale and spend some attention on my 1:20.3 skeletons. I original build them with 18′ length to make them suitable on 3′ radius curves. Since I moved on to 4′ radius, I did some test runs if I can enlarge my […]
Posted by Gerd on Tuesday, 10 October 2017
(Comments Closed)
Good morning, since I started to realize, how big my small sawmill will become, I came to a very import question – where to store the sawmill once finished? Since I don't have spare room at the moment to store such a huge construction, I decided to take a break on the sawmill project. We're […]
The template from last week worked very well and the following timber frames were assembled with half an hour each. With the five frames done, I figured out how big my sawmill will be. The main building will be 85cm by 50cm (33.5″ by 19.5″) with the log deck and carriage loading outside of the […]
After some research, I found a nice prototype sawmill, which will be used to build the Louise Valley mill. The Pine Ridge Lbr.Co. was a very small logging operation in California's Sierra Nevada. The mills output was rough cut timber only, which got sold to the nearby …. The lumber was send down to the […]
Hello, some while ago, I found this sawmill kit on eBay. It's in new and unbuilt condition and after a check, all parts are there. It's a basic mill with a simple interior, but such kits allow a lot of customizing and bashing. After a first view to the plans, I'll stretch the whole mill […]