The "Waldbahn Eusserthal"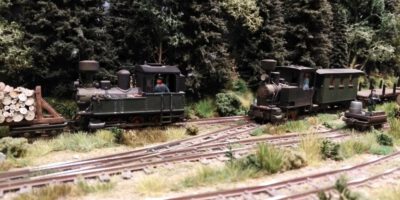 The small village of Eusserthal in the Palatinate Forest never had a rail connection in the real world. But the idyllic and isolated valley could have been a sweet home for a (model train-) logging railroad.
Starting at the standard gauge station of Albersweiler, a 30″-gauge railroad could connect Eusserthal as well as the nearby Dernbach and Ramberg to the wide world. Beside logs and timber, the railroad could have hauled other freight as well, coming from farming and a brush maker company in Ramberg. The head quarter would be well placed in Eusserthal, where a real sawmill was operated back in time. From here, several logging spurs might lead into the forests, connecting log landings, small sawmills and char coal burners.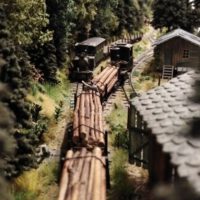 As said above, my railroad is freelanced and never existed in the real world. She's located in the era 1925-1930 and uses mostly steam locos, but also some diesel locos. The large number of freight cars are matching the regular freight on the railroad. The rare passengers can use the single coach for travel or take a seat on one of the open riding cars.
But there's also some special equipment available for modern museum trains and even some exotic locos from other countries, including an American Shay loco and even a Welsh live steam loco.
---
My railroad uses five locomotives, made by Minitrains and Roco. The Shay is a rare handmade model from Japan and operates the "Palatinate Forest Tramway".
The roster of rolling stock contains Minitrains and a few kitbashed/scratchbuild wagons.