The "Waldbahn Eusserthal"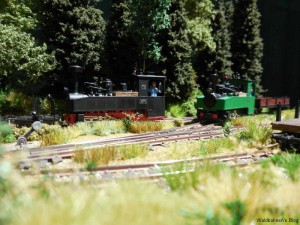 The little village Eusserthal in the palatinate forests never had a railroad connection. But the idyllic valley and the timber stands may invite any logging railroader to think – Well, it could be… That's the way how my freelance "Waldbahn Eusserthal" was born.
From the std. gauge railroad at Albersweiler, the little logging line run up to Eusserthal where the tracks splits to several spurs into the woods. A branch line to Dernbach and Ramberg was later added. The main station with loco facilities of this 30″ gauge railroad was in Eusserthal.
The railroad only operated steam locomotives to haul logs for the nearby paper industries, connected via the std. gauge reload. Another typical freight was charcoal, freshly made in the valley too. There's also a brush and broom maker company.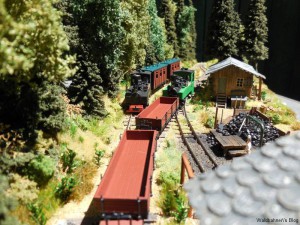 My freelance model railroad is dated to 1925 and reflects many prototypes like the logging railroad in Abreshviller (France), the great Muskauer Waldbahn (Germany) or the Wassertalbahn in Viseu de Sus (Romania). The Railroad mostly runs log trains, but sometime you can catch one of the rare passenger excursion trains or freight trains.
There're also some foreign guest locomotives for special operations available.