gas-mech Boxcab #3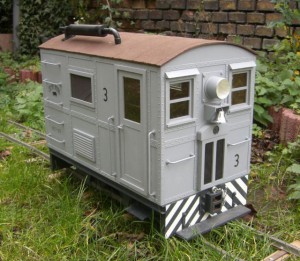 In 1918, the steam locomotives on the BCL&RR were very busy on their daily runs between the log camps and the saw mill. While the Shay used on heavy log trains, the Forney made the supply runs with passenger and freight cars, but was also in service on the log trains to get all loads down to the mill. At last, the growing length of the line results in high duration for the train runs.
Finally, the owner company decided to bus a third locomotive. First idea was to buy another steam locomotive from second-hand. But there was a brand new modern gas-mechanical boxcab locomotive on sale from a closed down railroad.
After some negotiations, the BCL&RR was able to buy the locomotive. First test runs of this loco shows that the engine was strong enough to haul heavy log trains along the creek down to the mill. The engine was also fine in freight and passenger service.
With this new locomotive, modern times have started on the BCL&RR.
Later the locomotive got the old name plates of Forney #1 which was lost in a rock slide.
The model
The model is based on my old Gmeinder diesel loco in 2.5″-scale. This loco was to big and to modern for my other 2″-scale stuff, set to the period 1910-1920.
During research on the internet, I found a very nice boxcab loco from Boulder Valley Models in On30. This freelance model was my favorite, so I build this model on the chassis of the old diesel engine. The new superstructure was built from plywood with most details as possible. The loco is battery-powered and I use a 24V/250W scooter motor for the drive. 2 batteries with 12V/42Ah each are used as power supply. The loco is also equipped with RC.