About the Bear Creek Railroad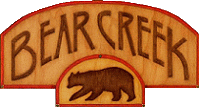 The Bear Creek Railroad is a fictive railway, born in my mind and located somewhere in the mountains of northern America. I like it to follow an own theme while building railroad models, instead of modeling a real prototype. So I collected several nice prototype scenes and set up my own little railroad empire with own rules and own rolling stock.
At the beginning, there was only the gauge of 30″, also a seldom seen prototype in the USA. Only a few hands of 30″ gauge railroads have been built, while 3ft gauge was the regular narrow gauge. I also had two small locomotives, looking great on tight curves and little trains. So I decided to set up a small logging show.
Now it was time to define the system map and get clearance for the railroads tasks and ROW. So I took a sheet of paper and started with rivers and railroad, added camps and stations, and finally got the first system map of my little railroad which was originally named "Bear Creek Lumber & Railroad".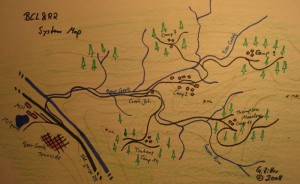 The saw mill is located near Bear Creek, a small town on the creek entrance. The town is connected to a std. gauge railroad, used to haul the boards out of the mill to the customers. The slim gauge line crosses the river and entered the woods along the Bear Creek up to Creek Junction, some miles in the woods. This part of the railroad has only small gradients, so longer trains can be hauled on this section. In Creek Junction, the mainline splits and the cars are hauled in smaller consists up to the high camps in the mountains. The old mainline proceeds along the Bear Creek to Camp 2, where the headquarter of the railroad is located. Most shops and main structures are placed here. Now the railroad will climb up the hill to the Camps 7 and 9. A second branch goes south at Creek Junction, running to Tinkers (Camp 14) and Thompson Meadow (Camp 17).
As typical for logging lines, the railroad uses a large range of different car types. At first there are some log cars to haul the main freight. But there are also standard freight cars, necessary to haul food, tools, spare parts, machines and other goods. To bring the loggers out into the woods, the railroad uses old passenger cars, bought second hand. While Tinkers and Thompson Meadow grow up to small villages, there's also a rare short line operation for freight and passengers on the logging railroad.