Posts by date
Dear friends,
yesterday, we set up a temporary track in our new backyard and steamed up the Accucraft Shay with a supply train of the Louise Valley Lumber Co. This was the first steam train running in the new garden as well as the last one in 2016 (probable). It was cold, but as in the years before, we didn't have snow yet.
Anyway, our daughter and I enjoyed the time we spend with the steam train.
Please accept YouTube cookies to play this video. By accepting you will be accessing content from YouTube, a service provided by an external third party.
If you accept this notice, your choice will be saved and the page will refresh.
We'll see us again next year ;-)
Gerd
Hi folks,
my family and I wich you a Merry Christmas and a good start into 2017.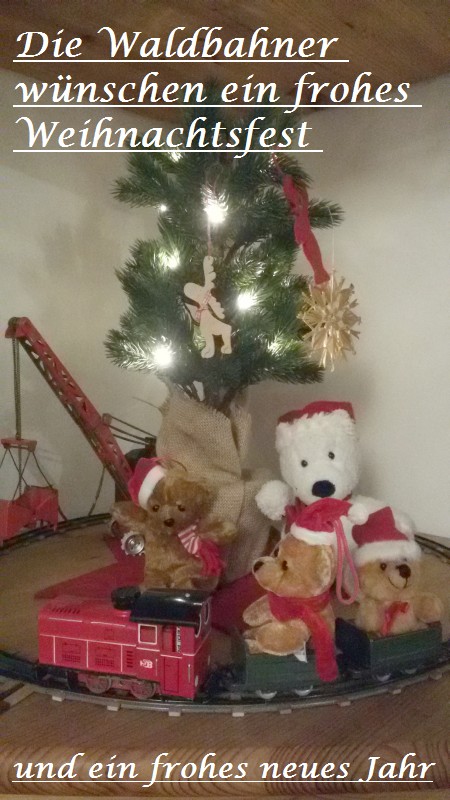 Good bless and keep up model railroading ;-)
Ronja, Katrin & Gerd
Posted by Gerd on Wednesday, 21 December 2016
(Comments Closed)
Good morning,
yesterday, I had a free evening and I used the time to make major progress in my workshop. I finished three more walls and finally 2/3 of the workshop is done. I installed some more power sockets as I realized, that I had some "dead spots". Next step will be to install the benches for the lathe and mill.
I look forward to get the new workshop ready within the next 6-8 weeks. It makes a lot of fun to made all the installations, but actually, I really like to do some log train projects…
See you soon – Gerd
Posted by Gerd on Monday, 12 December 2016
(Comments Closed)
Hello, last weekend, I did some more progress on my new workbench. Once the kitchen cabinets were arranged and level, I added some braces to support the table top in between and finally set the table top in place. The wall was covered with wood and I installed power sockets and light right into it. […]
Hi followers, after we moved to our new home, it's time to arrange and move my workshop as well to get some new projects started (and there are a few nice ideas on the list). Here's a first overview of my new workshop. First photo is a view down the stairs into the long room, […]