Posts by date
Hello logging railroaders,
a fey days ago, we visited out Friend Ralf, who invited us for an operation session and BBQ. It was a pleasure for me to run the LVLC trains on Ralf's layout, since I got my US-logtrains from him many years ago.
It was such a nice afternoon/evening, that we continued the next day as well. Here are some photos of my log trains on his wonderful layout.
Please accept YouTube cookies to play this video. By accepting you will be accessing content from YouTube, a service provided by an external third party.
If you accept this notice, your choice will be saved and the page will refresh.
A few years ago, I found a LIMA plate replica, the manufacturer of the SHAY locomotives. Now I was looking for my second favorite logging loco, the Romanian RESITA. These loco were built in the 1940/50th and served several forest railways in Romania and others. Some are still in operation on tourist lines and a very few even on real log trains sometimes.
Since I couldn't find any sign for sale, I decided to make my own one.
I searched the internet for a good photo, from which I made a CAD file. The letters and words are milled on the CNC mill and finally assembled to the complete plate.
A coat of acrylic paint gives the finishing touch. Well, its way to bright, accurate and clean to be a "real" makers plate, but I like it and it fit's well in my collection.
Posted by Gerd on Sunday, 11 June 2017
(Comments Closed)
Hi,
during the children's treat last week, the Shay proved her power and function during 8 hours of non-stop operation. As reported last week, the loco also showed some issues, which got solved in the meantime.
The packing nut of the front cylinder was self-loosening, so I added locking screws to keep them in place.
Some more effort was the fix to the main engine bracket. One leg was loose and while silver-soldering failed in the first attempt, I welded the parts together (I'm not the best on the welder). Anyhow, now the bracket is strong and sturdy again. Another reason for the dancing cylinder was a missing screw, which holds them to the cylinder columns…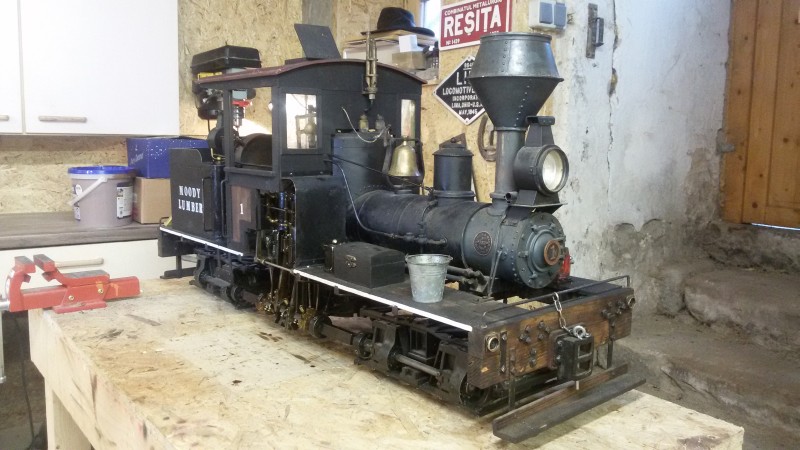 Finally the loco is now back in full operational condition and I look forward to get her into service on one of the club layouts around. As the last photo shows, I removed the winch, since I don't use her much and I like the loco some more in it's "typical" Shay look.
Gerd
Last Sunday, we host a big children's treat in my home village in celebration of our 1250th anniversary. Beside several games and Böchingen's well known cake buffet, my 5″-gauge live steam railroad became the highlight, not only for the kids. Many elder visitors were fascinated by the steam railroad as well as some of them […]