Hi folks,
short update from my projects.
Not much done, but at least, the tiny Toma Shay got named "Gopher" inspired by Shay c/n433. I had ideas to build a small layout for this loco, but non of the plans could convince me by now or at least, were to large for my space.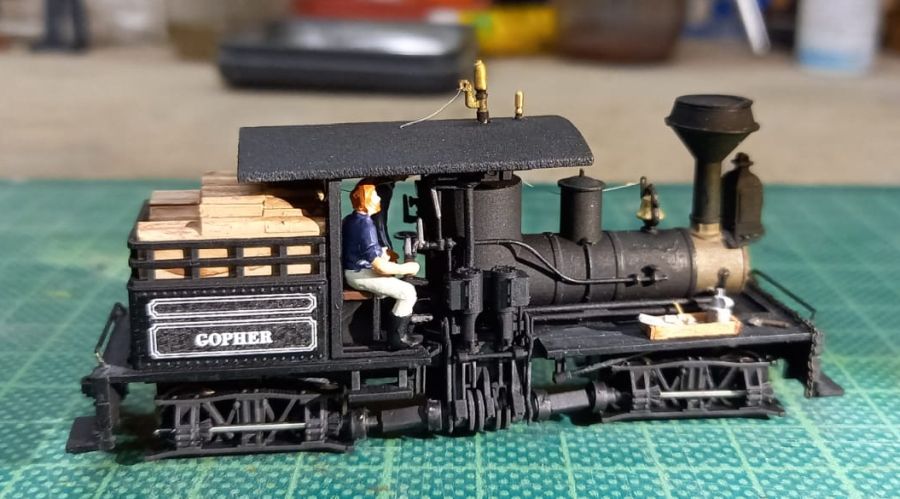 So I've to spend some more thoughts on a layout and maybe I can use the time in between to finish some other models.
Cheers, Gerd
Well, some may have wondered about last weeks update, others already got an idea what I did. Here's the 4th part of my tiny Shay loco, showing you a little untold secret ;-)
The Toma Shay is factory equipped with a small coreless motor. I meassured the current draw of this motor, which is 6-7mA in regular use, up to 12mA when the wheels are blockes with a thumb. Let's combine this with a tiny 50mAh Lipo battery, which will be the base for an RC conversion.
As the Shay has limited room inside, the only spot to add RC would be the tender top and inside the firewood pile. I already had a Deltang reviever at home, so I searched for tiny Lipo batteries.
I made a 3D model of each component in Fusion360 as well as model of the tender shell. Next hours were spend in good old Tetris-manner, trying to puzzle all parts in place. A tiny SMD switch could be placed behind the timber railing, same would be possible for a charging socket. Its tight, but should work.
What Fusion360 did not show me is, how tiny tiny the space really is and how to use a soldering iron in litteraly no space at all. First, I converted the power truck. I removed the pick-ups to the wheels and replaced them with a tiny 2-pol socket. This plug-in connection allows easy desassembly if necessary.
A 3-pol-socket for charging was placed on the back side of the tank. I had to file one of the opening and add some shims to make it fit. I use 3-pol sockets for charging with "minus-plus-minus" to allign polarity. On the firemen side, I added the SMD switch with some shims underneath. The knob is sticking out of the grate.
The photo below shows the components used. To charge the battery, I use an external USB-charger with cable connection.
As I designed the whole rebuild in CAD, it was easy to create a woodpile which would cover up all the RC components. I added cut outs for the switch and socket and send the file to my dad for 3D-printing. The printed part got painted and fits perfectly in place, covering up all the electronics below.
Beside the wood pile, I send files for disconnect log cars to my dad as well. But that's another story for another week.
Hello folks, time for a new update. I did some research on 13ton open cab Shays in the past weeks and where they were used. Doing so, I found a couple of such locos in North Carolina, running into the Carolina Sandhills to get timber, turpentine and tar from pine trees. A very interesting detail […]
Posted by Gerd on Thursday, 4 March 2021
(Comments Closed)
Hi folks, the tiny Toma Shay is finished. Beside the firewood pile and crew figures, I added obligatory tools and clutter to the runboards. I also spend a light wash-weathering. As this loco was build in 1890 and will be used in its early years, there's no heavy weathering needed. As a special detail, I […]
Hi folks, I'm so sorry, but the assembly was so joyful, I once missed again to take progress photos. I hope the few photos below can give you some ideas of the details. I'm still amazed by the boiler back head detail. Sure, this is an open cab loco, so the back head is visible […]