The "Louise Valley Lumber Co."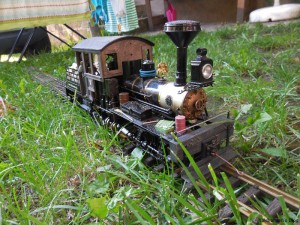 The Louis Valley Lumber Company never was a big logging operation. Placed on the West Coast of the United States, the logging company started the mill around 1900 together with a small logging railroad to haul logs from the woods along the Louise Valley to a saw mill nearby. The logging railroad originally used a 17ton T-boiler Shay and 8 16′ flatcars. In 1920, the Shay #1 got wrecked in a derailment and there was no way to get her repaired and back into service.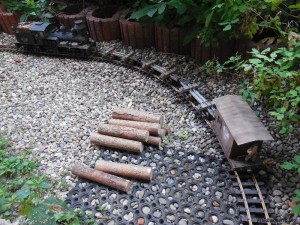 A second-hand bought Class B 28ton Shay with #5 took place instead, but the new huge Shay caused derailments and other issues on the tight curves. She didn't last long in service and was finally replaced by a Climax 2 or 3 years later, which became LVLC-#4.
The rolling stock roster was also changed someday. 5 of 8 flatcars got rebuild into 18′ skeleton logcars, while the remaining flatcars became freight cars. Fully homemade was the small 4-wheel waycar, which become known as "Caboose" and was mostly used as short time camp car at the cutting side.
Center of the operation was the sawmill with the logging camp. There were no camps at the log landing or cutting sides. The loggers used to ride the log trains to their work place. Each of the two logging spurs were served once or twice daily. Sometimes, the "Caboose" was placed at the track end as shed for the loggers.
The small sawmill was equipped with a double-circular saw and simple edger. The company only produced rough cut lumber, which got sold to a larger company for finishing. The lumber was brought to a nearby lumber flume of that company and send down to the finishing mills and drying kilns.
During the mid 1940th, the logging operation came to a stop and finally the company closed down just before 1950. Finally, nothing has left of this logging railroads. All equipment was sold for scrap and the camp side with sawmill burned down during a wild-fire.
---
My Louise Valley Lumber Co. trains are derelicts of my old garden railroad. Since I moved to my own house and started construction of my 2″-scale Shay, I sold most garden railroad stuff. Except for some of the logging railroads. These pages are showing my little logging railroad in Fn3-scale which operates a live steam Shay. Meanwhile I build a string of log cars and a box car.
That's one point, which is special to my Fn3 garden railroad – all cars are homemade, just as it was on many logging railroads once back in time.
Actually, I don't have a garden railroad at home, but I own some tracks for temporary layouts. I can also run my trains on the big garden railroad at my parents home and on my friends layouts around.
I hope you enjoy my models and you may visit again. I've some ideas for rebuilds, new rolling stock and operations…