The "Louise Valley Lumber Co."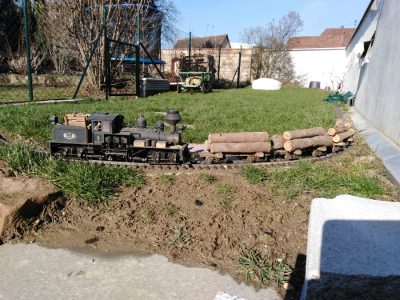 The free-lance "Louise Valley Lumber Company", located somewhere in California between El Dorado and the High Sierra, never was one of the big logging companies. It was founded to bring logs from the Louise Valley in the hills north of Ronja Springs to the factory of "Woods Furniture"
The lumber company operated a small double-circular saw and plank mill in Ronja Springs. Most of the rough cut lumber got processed directly by "Woods Furniture" near by. Beside the sawmill, the railroad had a small rail yard with crude and simple loco facilities. At the end of railroad, a small logging camp was build which became known as "Feddy Grove".
When the railroad began operation in the early 1900's, the line used 2nd hand Class A Shays. When the train loads got heavier, two of them got replaced by bigger Shay and Climax locos. Starting in 1930, the old wood burning locos got all replaced by also 2nd hand oil-burners.
---
Of the original Class A Shays used by the LVLC in the early days, only engine #2 survived. As written above, the others got replaced by Climax #4 and Shay #5, to haul heavier trains out of the woods. While #4 and #5 hauling the log trains, Shay #1 was kept as backup loco and operated freight, switching and MOW service on the railroad.
Engines 4 & 5 are Bachmann models, equipped with Deltang and batteries. The small Class A Shay is a live steam model by Accucraft. All got weathered and detailed to my special favour.
The second generation of motive power actually features two oil-burning Class C 3-truck Shays. Once is made by Bachmann Spectrum, the other one was built by Aster in Japan from brass and steel for LGB in 1996. Both are equipped with Deltang and LiPo batteries. Both locos will get an airbrush weathering and details soon.
To haul logs out of the woods, I have 5 20′ skeleton log cars in service at the moment, but I like to build some more. To bring freight and equipment to the camps, the railroad also has some 16′ freight cars as well as a workshop car and a short waycar.
All rolling stock is homemade from wood and metal parts (Ozark, homemade brass parts). The run on die-cast trucks with metal wheels.