Welcome on my logging railroad Blog

Hello, my name is Gerd and I like logging railroads…
I was born in 1980 and got my first LGB starter set with the age of 6. My dad is also interested in model trains and railroads so it was no wonder that I got into model trains too. Some years later, I found several reports about logging railroads around the world in railroad magazines. That was the time that I fell in love with those rustic little logging trains, there cute locomotives (just my opinion) and that special kind of idyllic world… My favorites are Shay operated US logging railroads and those 0-8-0 european logging locomotives, both mostly in narrow gauge :-)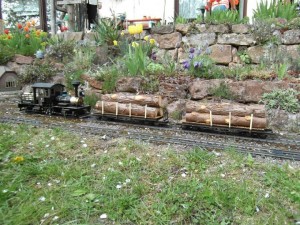 On this new Blog, I like to show you my recent activities around logging railroading in different scales. I model and operate live steam trains in 2″scale, do Fn3 garden railroading and you'll find my famous Hon30 modular logging railroad here.
In the menu bar at the top, you can choose the different topics/categories. Or you may go through the archives at the right to follow my projects post by post. Usually I post new content every Tuesday about my projects and progress.
Which way ever – I'll wish you many fun and a good time here at my pages and I welcome every comments and ideas.
Your Waldbahner aka Gerd