Posted by Gerd on Friday, 7 November 2014

Hi folks,
I plan to build two storage boxes for my Hon30 modules. To get both boxes the same size and to store the modules equal, I've some room left for another 2′ module. The most flexibility would give a module than can be added on each D-type joint. Therefore I spend some thoughts about the possibilities.
This overview shows "Gerd's Eleven", the actual combinations that I can set  up.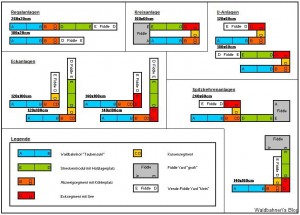 With just one more segment, the combinations for the layout raises up to 28 (!). Additional, there are some variations possible by changing the fiddle yards, but I don't count them.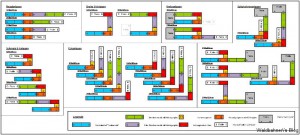 The overall number of segments would be 8 (incl. the two fiddle yards) while I call the new concept "Magic eight". I guess with this stage of my Hon30 layout, I've a very huge start to play with… until I get new ideas to expand that layout. Ideas are already in my mind…
Cheers, Gerd