Posts by date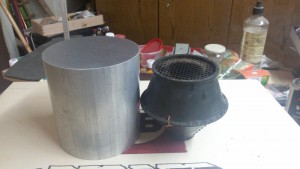 When I was at our club layout in with the Shay last August, I dropped the diamond stack by mistake and it broke apart. The original one was made from simple iron sheet metal and due to heavy rust around the soldering joints, there is no way to repair it.
So I captured the idea of Kozo Hiraoka, described in his books "building the Shay", how has made the diamond stack from solid material. I bought a 6,611kg aluminium block to make a new diamond stack for my Shay. It measures 14cm in diameter and is 15cm long. First I cut it down to 13cm on the band saw, then I chucked the raw piece to the lathe and started work…
Meanwhile, round about 60% are done. I shaped the top tapper and bored the stack hollow. I don't make it full hollow as the prototype, just enough to have place for the steam to escape. With the top half done, I can chuck it reverse on the lathe and start with the lower portion. It took me 3 evenings for the first set.
Once the lathe-work is done, I'll add some detail rivets to completed the look of the new stack.
Will be continued…