Posted by Gerd on Wednesday, 25 November 2015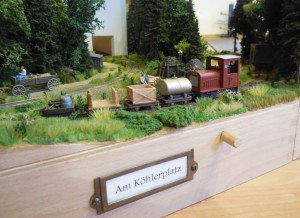 I got a loco for my Hon30 logging railroad. Once I got rid of the DCC stuff, I don't need new decoders anymore, therefore it's cheaper to get new locos into service. I couldn't resist and invested some money in one of the great little Minitrains Gmeinder locos.
I choosed the maroon-red one and I love her. Shortly after delivery, the loco was seen near the charcoal square with a short work train. The loco will get weathered and detailed during the next weeks.
Gerd