Posted by Gerd on Wednesday, 2 December 2015

I spend the first evening working on the new module of my Hon30 layout. I made the module from two 20x30cm Casani boxes and glued/screwed them together for a 60cm long module. Next I installed the plugs and sockets, layed the tracks at the module joints and did some tests with the existing modules. I also have the detail stuff at home to make fast progress on the new module (hopefully). The scene will show some cows and a barn.
The geometry of the new module shows a D-typ joint on both ends, which gives the most possibilities to add this module to the layouts. The following overview plan shows the new module in purple.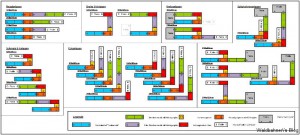 To be continued, Gerd