Posted by Gerd on Thursday, 19 May 2016
Good morning,
since "Grey's Anatomie" isn't my favorite show on TV, I spend another evening in the BCRR workshops.
First of all, I've made a photo of the open frame tank, showing the ballast. I had to remove the top cover to install brackets which will hold the boiler run boards. Unfortunately, I killed some drill bits while the cover is of some damn hard material…
Anyhow, I managed to install the brackets made from 2.5mm steel sheet. This was, I could pass the brackets below the rod for the drain cocks and I wasn't in need to rearrange the lubricator.
The lower position of the new run boards needs some pockets milled to the under side to clear the space for the valve gear. I made the cut-outs for the lubricator and valve gear as small as possible.
Afterwards, I painted the boards ans screwed them in place. I'm very happy with the result and the loco get's a whole new style. I once had runboards on the loco, which were 15mm above the actual ones, which looked odd and our of proportion. With the boiler back in place, I could make a first "balancing test". As you can see, the main weight is on the drivers and it needs some strength to the tender tank to lift the front wheelset off the ground. This will result in good traction.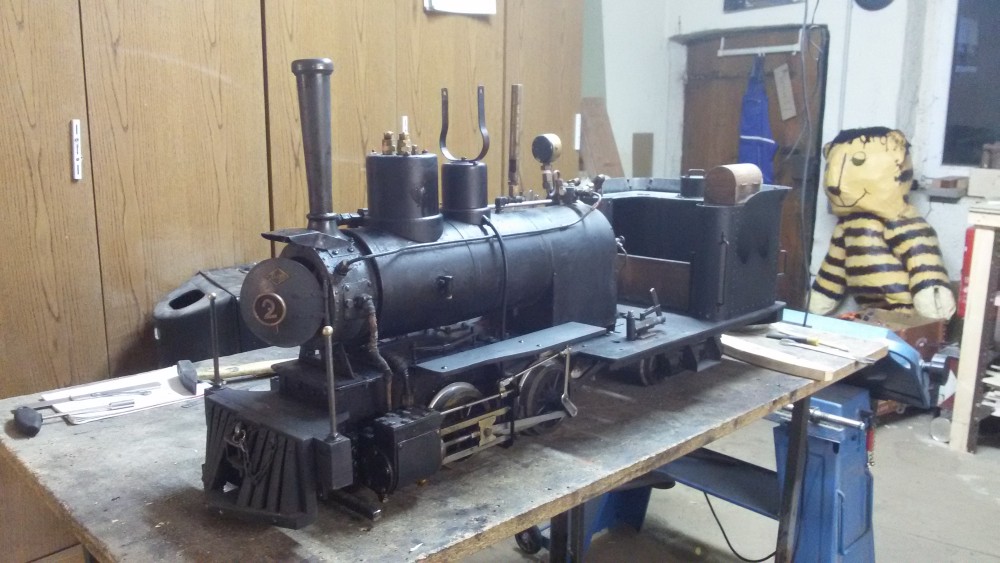 Now the list of To-Do's is getting shorter very fast. Once the piping is back in place, I have to renew the steam manifold on the boiler back head, adding some new details and parts around the boiler, before I can start to rebuild the cab with a facelift and some extras. I also decided to add new lettering, so the old one just disappeared under a coat of black paint…
To be continued…