Posted by Gerd on Tuesday, 24 October 2017

Hello,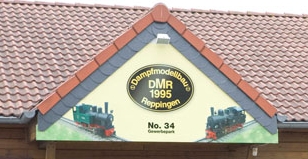 last weekend, I picked up the first two kits for my new Resita-loco at Dampfmodellbau Reppingen. It was a very exciting and interesting visit. I was able to get the components for the chassis and boiler. The cab and water tanks as well as bunch of details will be shipped later. I was very impressed by the workshop. It would be really great to have such a workshop on its own.
Back at home, I checked all the parts to get a feeling of the loco and the kit. While doing so, I also noted some changes and improvements, which I like to add to my loco, to make her one-of-a-kind.
Basically I'll keep the Reppingen-loco technically, while I'll spend some work on cosmetic details such position of the domes, the front boiler support, details on the frame and many others.
Most of them are small bits, but may result in a very nice and close-to-prototype-model. As usual, I'll post the progress here on my blog.
Stay tuned, Gerd