Posted by Gerd on Tuesday, 3 April 2018

Another week is over  and here's the report on my flat cars as announced.
These two cars are left over form my very first logging railroad and for some nostalgica, I was looking to use them on the new railroad as well. Since the trucks got modernized together with the other log cars I showed last week, I was now looking at the car frames with mixed feelings…
When I build these cars nearly 20 years ago, I had totally different thoughts in model making. The length was determind by simple 1/3 of a 1 meter U-channel and the construction was very simple and crude. They turned out to be to wide as well and at least they doesn't match my todays style and philosophie.
So I removed the wooden planks, sandblasted the frames and took the whole frames appart with the tourch.
In my scrap-box, I found another section of the same brass-channel I used for the long sills. So I was able to add some more length to the car body and get it closer to the prototypical length. The new frames are also a bit narrower , so the finished cars are looking much longer as the old ones, since the proportions are closer to the protoype.
Once the basic frame was done with all the center sills and cross members, I adde the stake pockets from square-pipe and truss rods from brass. What a difference between the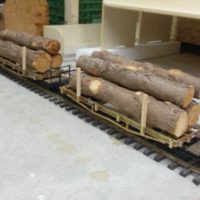 two versions. Once the first frame was done, I continued with the second one.
The photo beside shows the cars with the first load. Next is to add paint and weathering. I'm not sure yet about deck planks. Many of such cars were used without planks, but at Campul Cetatii, the flatcars are mostly used to haul pulpwood, so all had deck planks on top.
Bye, Gerd