Posts by date
In early 2019, I bought a used "Frank S." loco from LGB on eBay to model the HF110c loco of the French "Abreschviller logging railroad". But soon I realized, that I was going to spread myself to far into different railroads topics, so I canceled the project just right in time. But what to do with already acquired loco? For a long time, I was also thinking about a battery powered steam loco to support my CFF Resita on the Romanian railroad. So, I bought spare parts from an LGB Austrian "U" loco (Zillertal) and sold not suitable parts from the HF110c (tender, cab and other parts).
I started with removing the counter weights from the cranks. I found piece of steel rod and made a sanding-jig to turn the counterweight cranks into simple cranks. The frame took some more work as I was going to replace the cylinders by those from the Zillertal-loco, which will add the typical "Krauss"-character to my new steam loco. I used photos of the real CFF 763-247 loco for reference. This loco was used on the Oituz and Commandau lines and features a 4-wheel bogie truck (4-6-0) which will not be covered on my freelanced model loco. Cutting the frame and valve gear support to fit the outside frame of the former HF110c was not easy but worked fine. The buffer beams on both ends are newly made from styrene and metal, equipped with my 3D-designed CFF couplers. I spend some more cutting on the top of the frame and added a new cab floor which is set on top of the original one to get the cab a little bit higher as before so suit the scale of 1:19 (16mm).
The rebuilt went well so far, so I proceed with the original boiler. The sand dome got removed as it will be replaced by a typical Krauss-model later. The new stack and spark arrestor were made on the lathe from steel. When drilling the whole in the smoke box to take the new stack, I had a small mishap when the drill braked out, but I'll be able to fix that with putty later. I already started to fill attachment holes from former detail parts with putty.
But then, the whole project came to a stop for more than 6 months when I faced a big problem coming up: WHERE to place the batteries and HOW to exchange them? I use 4 LIPO-batteries (S4) with my actual 8 garden railroad locos, as I don't run all the locos the same time and each battery will be used more frequently. Therefore, it's necessary to take the batteries out of the locos for loading or to use them in another one. On my other locos, I can remove the tender shell or lift the top cover of those to get access to the battery, but there is no such container on my new Krauss loco.
A solution for this problem was found in late 2019, but this will become a new post somewhat later.
Hello and welcome back here on my logging railroad blog.
I hope you had a good start into 2020 and I which you all the best and a happy new year.
This year will bring some new projects and ideas, but also some changes. After posting weekly on this blog, I'll try monthly and/or progress-related posts this year. This might help me to spread my time better to all belongings in live as family, work and hobby, as I spend a lot of hobby-time for postings here on the blog.
End of last year, I started to reduce my collection by selling unfinished projects which were no longer needed, models wich were too much "compromise" and at least those models, which were just too much and not frequently used. These sales created a nice budget for upcoming projects.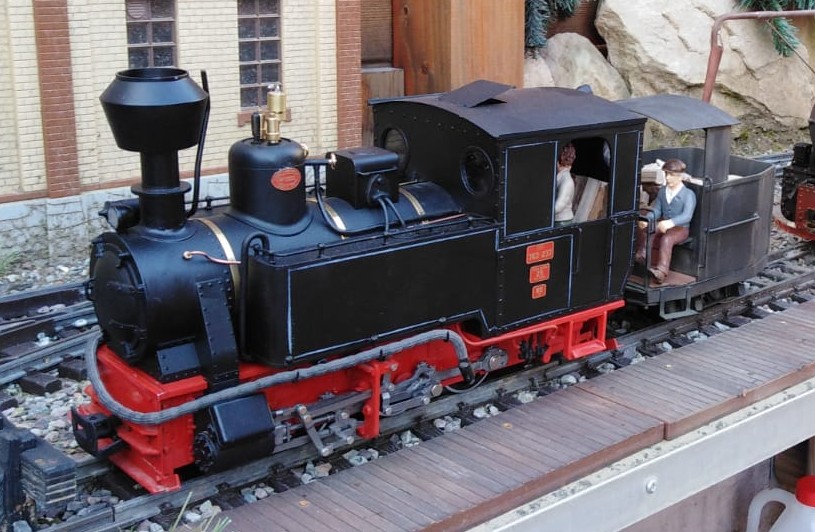 Also last year, I scratch-build this Krauss loco for my Romanian logging railroad. I'll show more of this loco in detail within one of the next posts together with some details how I build this loco, based on LGB parts.
Regards, Gerd