Hello again from the smaller Hon30 railroad,
in spring this year, I showed some layouts from other model railroaders, which were based on my design of the WBE. Bernd Iron copied my entire layout with some additional segments, and gave it a totally different look. Yesterday, he came for a visit and brought some of his modules, so we placed both side to side as "uneven twins" as they are.
Bernd's forestry railroad "Groß Rommelstein" is located in the French Alsace/Lorraine region, so we had a first German/French forestry railroad meet on our kitchen table.
Bernd's visit was not only for fun, we also have plans to exhibit our layouts together as huge, German/French forestry railroad during the "Faszination Modellbahn in Sinsheim" in march 2018. Therefore we tested some layout arrangements as well as discussed the scenery of the needed interlocking-segment.
We also found some time to run trains on my layout. Bernd brought his new red Decauville and I recently got my green Schneider loco from Minitrains this week.
A special was the tiny grey car, which is modelled after a prototype at the Abeschwiller railroad in France/Alsace. Bernd made two of this cars from evergreen styrene and this one was a gift to me and my WBE. Many thanks Bernd, and we really had a great day.
Gerd
Hello logging railroaders,
last weekend, I participate on a model train show in Sinsheim, Germany, and showed my modular Hon30 layout in public for the first time. On this show, a German model train magazine organizes a competition for private model train layouts and mine was part of it. Unfortunately, I had a helper for layout operation only on Friday, so I had less time to see much of the other layouts or to make many photos. So here's a short collection.
I've been glad to meet some model railroaders that I know from internet forums and I had many visitors, which have followed the layout on my Blog or Youtube. They just take the advantage to see the layout in real and most have been very impressed. I also changed the setup regularly to show the concept of the micro modules and how easy they can be set up and changed. The loop-layout was great at lunch time, but mostly I used a long L-shaped layout which performed great for the show. At least, some visitors which came twice or more often found a totally different layout as before.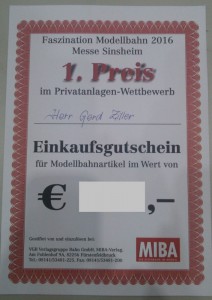 Two special highlights happened on Saturday : First, Andreas Schönfeld from Minitrains came for a visit. Without his wonderful model trains, my layout would be unthinkably. Even more impressive was the final result of the jury for the competition. There have been 7 other layouts, all of them very well made and many much more impressive in scenery in detail… But finally, the concept of my simple plug&play micro modules was honored with the first place.
I was blown away and very happy. Motivated by this success, I'll go to expand my layout later this year. I've already some plans in mind. But first, I'll finish some other projects like my trolley layout.
Regards, Gerd
Posted by Gerd on Monday, 30 November 2015
(Comments Closed)
Hello logging railroaders, in the past days, I set up two different layouts from my Hon30 modules and ran some trains with different locos. I also tested the new Minitrains Controller and I'm very happy with it. Here are a couple of photos, taken during the op-session. I guess it's time to start the next […]
Hello, last Sunday, I steamed up my 009 live steam loco to haul some log trains on my Hon30 layout. I ran 3 boiler fills of water and had a lot of fun as well as warm fingers :-) This was the first time that I set up the whole layout after adding the backdrops […]
Posted by Gerd on Saturday, 17 January 2015
(Comments Closed)
Hi folks, I made a video of my new 009 live steam loco during a steam-up yesterday to show the steps and the operation of the loco. More photos of the loco and some details are also posted to the menu on top. You can also follow this link. Enjoy :-)
Well, it's finally done… after 4.5 hours of work and from 50 minutes of raw material, I finally got a 14 minutes movie about my Hon30 logging railroad. Unfortunatlity I forgot to make photos along the videos. Anyhow… maybe at the next operation session. As they are shown in the movie, here are some details […]
Hi folks, here're the photos of the finished segment as announced in the last post. Beside the log landing, there's a cutting area and a small station building for the loggers and their equipment. Cheers, Gerd
Posted by Gerd on Tuesday, 23 September 2014
(Comments Closed)
Hello, due to special events at last week, I was not able to post the updates on my Hon30-layout and I'll bring them this week. Meanwhile, I finished the 4th segment with the little pond on it. This pond is surround by many trees to create a special scene when the train takes its way […]
Hello guys, I uploaded a little video that shows the flexible and easy assembling of my modular Hon30 logging railroad layout. It's fully "plug&play" and can be set up in a few minutes and if you like, you can just change the setup during your operation session. I started with a simple shelf layout design, […]
Hello all together, except for some small details, the first module of my Hon30 logging railroad is finished. I took it out on the garden table on a sunny afternoon to make a couple of photos with real day light. I hope this will bring the spirit of this backwoods logging railroad station to you. […]