Hello,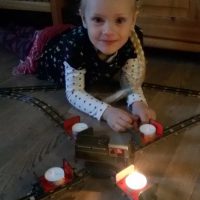 this year, I was very busy in many model railroad projects and I made good progress not only on my new garden railroad. At least, I attended more than 8 model train shows and exhibited my model train layouts.
With the beginning Advent time, I like to relax a little bit to gain more power and ideas for 2019. It's time for family and Xmas preparations. But don't be afraid, I'll continue this blog and my projects starting next year.
Until then, I'll revisit the main pages on my blog, spend some updates here and there and there are still some open questions regarding some details on my H0n30-layout, which like to get answered.
So stay tuned, enjoy the last month of 2018 with all its joy and contemplation and we'll see us again soon ;-)
Gerd
Posted by Gerd on Tuesday, 2 October 2018
(Comments Closed)
Hello,
I got some mails last week regarding some more information about my old N-scale rolling stock modelled after the famous West Side Lumber Co. Since the original website has gone, here are some photos of the model I build back in time and which all got sold away some years ago.
Two make the three 3-truck-Shays, I butchered five of the great Atlas N-scale Shays. Three of them got shortened for the power chassis and shells, the others were used for spar trucks and parts to make the tender extensions. I modelled the prototype engines #9, #12 and #14.
Beside the locos, I made a whole bunch of cars as well. Most of them the typical skeleton logcars, but also a large number of freight cars, tank cars and caboose. All cars were made from cnc-milled styrene and separate details parts. They used trucks and couplers from Microtrains. Over all, I made 52 cars, some of them are shown here as examples.
And of course, I also spend time on layouts as well. Most ideas never came to any build-status, but two attempts were actually made. Unfortunately, both layout attempts got scrapped and all the rolling stock sold. More about the layout I had started will be shown next week.
Bye, Gerd
Hello logging railroaders, at the moment, I struggle with some issues on my garden railroad project. It seems that I have just to many different projects and ideas going on, and I've to sort them out in those I can realize on my railroad, and those I should try to stop before it's to late. […]
Posted by Gerd on Wednesday, 18 July 2018
(Comments Closed)
Hi folks, we just returned from a spontaneous short vacation trip yesterday evening, so I don't have any news to show on the blog this week. But I got some new ideas for future projects. So please stay tuned and see you next Tuesday as usual with some new logging railroad updates. Gerd
Hello followers, in the past two weeks, I finished some very important steps which I postponed way to long. As we bought our new house, the back side above the porch roof wasn't finished. I covered the section up with wood in clapboard style. It took me two days and was worth the effort. There […]
Posted by Gerd on Tuesday, 12 June 2018
(Comments Closed)
Hello logging railroaders, at a model railroad show in Mannheim in January, I meet Daniel from Mannheim, which has watched my videos on Youtube about my Hon30 logging railroad modules. He was fascinated by the concept and design and told me that he's going to build his own railroad soon. Now I'm happy to show […]
Posted by Gerd on Friday, 25 May 2018
(Comments Closed)
Unfortunately, I lost all followers during the reason changes on my Blog. If your interested in further weekly blog updates, please subscribe again at the bottom right menu. Many thanks !!! Gerd
Posted by Gerd on Wednesday, 23 May 2018
(Comments Closed)
Hi followers & readers, two sleepless nights and some grey hairs lay behind me, but I finally managed to do some important updates on my blog. First of all, my blog is now SSL-encrypt and I spend some attention to the actual data protection rules. Finally I was able to reactivate the blog-comments as well […]
Hello logging railroaders, I'm not sure if all of my English-speaking readers are aware of the new General Data Protection Regulation (GDPR) in Europe. Actually nearly any publisher of internet content is affected and it's hard to obtain the rules to stay clean with the law. After some research, I learned that my WordPress-Blog is […]
Hello friends of logging and forestry railroading and welcome to a new category here on my Blog. The "Waldbahn Gazette" will show you reports from other model railroaders, which are modelling logging railroads or related stuff. I got this idea while I talked to some new model railroaders, which started to build their own layout, […]