Hello and welcome back here on my logging railroad blog.
I hope you had a good start into 2020 and I which you all the best and a happy new year.
This year will bring some new projects and ideas, but also some changes. After posting weekly on this blog, I'll try monthly and/or progress-related posts this year. This might help me to spread my time better to all belongings in live as family, work and hobby, as I spend a lot of hobby-time for postings here on the blog.
End of last year, I started to reduce my collection by selling unfinished projects which were no longer needed, models wich were too much "compromise" and at least those models, which were just too much and not frequently used. These sales created a nice budget for upcoming projects.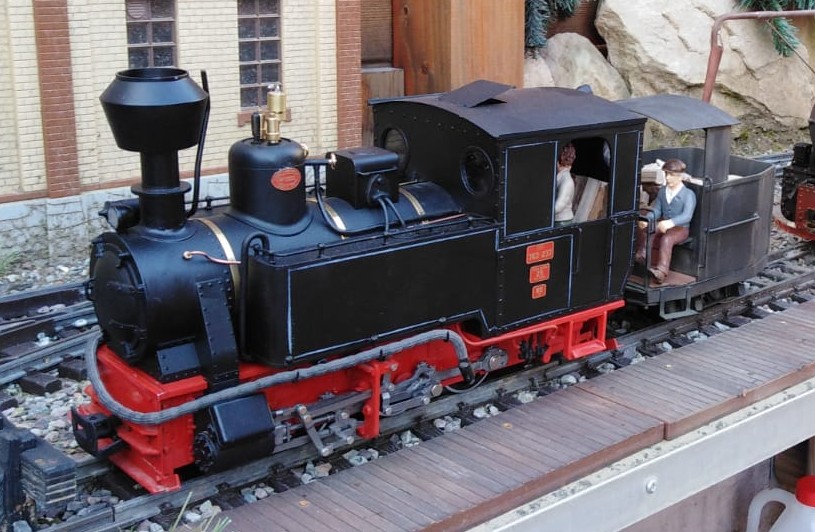 Also last year, I scratch-build this Krauss loco for my Romanian logging railroad. I'll show more of this loco in detail within one of the next posts together with some details how I build this loco, based on LGB parts.
Regards, Gerd
Hello my friends,
well, what happened to 2019? it's nearly gone…
Coming Sunday, this years Xmas season will start and in the past years, this was the time when my workshop got a real boon in projects and models. Back in time, when I was attending the Livesteam Indoor Meet in Germany, I had a lot to organize during the end of the year and sometimes, I challenged even huge projects in a short time, like a whole new  turntable in 5″-gauge, build within a few days.
All of these projects didn't happen if I didn't get so much support by my wife and family. They gave me a lot of spare time to work on my models/projects and to let me attend on exhibitions, not always without head-shaking.
Therefore it's the best time to say "Thanks" and I decided to keep the workshop closed during the next weeks, spending the whole time with my family. I wish you all a peaceful and happy Xmas-season. We'll see/read us again next year.
Kind regards, your "Waldbahner" aka Gerd.
Posted by Gerd on Tuesday, 29 October 2019
(Comments Closed)
Hi folks, I was very short in time for workshop and blog entries in the past weeks, due to several reasons. But now I'm back on track and already working on the next project. So hopefully there'll be new content coming next week. Thanks & regards, Gerd
Hello followers, it was planned to exhibit my Hon30-layout during the 50 anniversary of the logging railroad of Abreschviller (France). Unfortunately, I'll not be able to attend the show. Never the less, my friend Bernd will be there with his modular layout which is build in the same manner as my layout. Over all, all […]
Posted by Gerd on Saturday, 13 April 2019
(Comments Closed)
Hello friends, here's a quick reminder. My Hon30 modular logging railroad "Waldbahn Eusserthal" will be on exhibition during the "Trainsmania" in Lille, France from May 3rd to 5th 2019. As before, Bernd Irion will join me with his layout Waldbahn "Grand Rommelstein" as he did last year.
Hello, today, I've another issue from my "Waldbahn Gazette", featuring the amazing "Waldbahn Horský Dolina". I found this railroad some years ago in a German model train forum (Stummi-Modellbahnforum) and this layout was a great inspiration for me to build my own logging railroad in the garden. The layout and rolling stock is built by […]
Hello my friends, I wish all of you a Merry Christmas and a Happy New Year. This year christmas eve, we had a small family meet and some officially maiden runs on the new garden railroad. I look forward to get the rest of the line build in 2019 as well as some of the […]
Hello, this year, I was very busy in many model railroad projects and I made good progress not only on my new garden railroad. At least, I attended more than 8 model train shows and exhibited my model train layouts. With the beginning Advent time, I like to relax a little bit to gain more […]
Posted by Gerd on Tuesday, 2 October 2018
(Comments Closed)
Hello, I got some mails last week regarding some more information about my old N-scale rolling stock modelled after the famous West Side Lumber Co. Since the original website has gone, here are some photos of the model I build back in time and which all got sold away some years ago. Two make the […]