Are you in trouble and need good arguments for your honey, why garden railroad trains are useful and handy? Well, here's a genius life-hack for you:
I proudly present "Logging railroader's keyboard".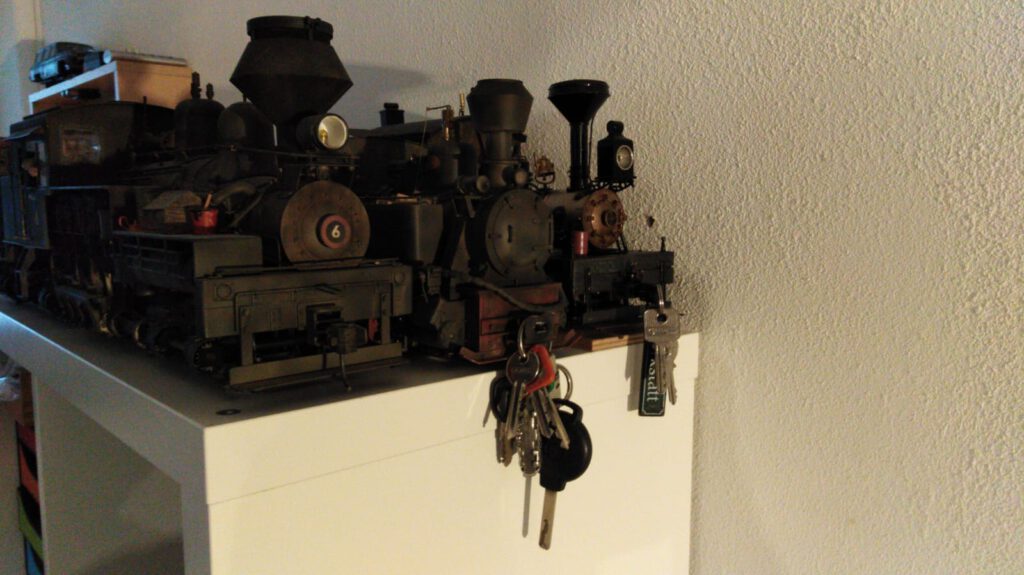 Well, it's finally a joke to fill a gap here in my blog. I'm working on some bigger projects recently and didn't find the time to write new postings for the blog yet. But I'll please you with some 20+ minutes of video coming soon. Promised ;-)
Cheers, Gerd
Hi folks,
just a short update to you, that my thumb is recovering well. There has been no dramatic injury to the inner parts, but I lost most of the thumb-nail so far. But it looks good, that the nail will recover in full size as well during the next 6-12 month.
So next post will hopefully finish the brake-gear-documentation on my 5″-gauge rolling stock. I already used the good weather in the past days to run some trains on the 45mm-gauge garden track and there are also changes upcoming to my Hon30 layout.
So stay tuned for further updates here on my blog, hopefully starting next week.
Until than, I wish you all Happy Easter, stay home, stay save, keep your fingers out of power tools and enjoy your model trains ;-)
Gerd
Hello my friends, on the agenda for this week was the final report about the hand brakes on my disconnects. But unfortunately, something came in between… Or more in detail, my thumb came in between the workpiece and mill… But don't worry, the wound is clean and cures well so far. But it would be […]
Hello, this week, I like to share some techniques I use to make multiple identical parts for projects on my model trains. Instead of using modern laser cutting, I try the good old way when possible, as long as the number of parts needed is not to high. Let's start with a couple of sheet […]
Hello and welcome back here on my logging railroad blog. I hope you had a good start into 2020 and I which you all the best and a happy new year. This year will bring some new projects and ideas, but also some changes. After posting weekly on this blog, I'll try monthly and/or progress-related […]
Hello my friends, well, what happened to 2019? it's nearly gone… Coming Sunday, this years Xmas season will start and in the past years, this was the time when my workshop got a real boon in projects and models. Back in time, when I was attending the Livesteam Indoor Meet in Germany, I had a […]
Posted by Gerd on Tuesday, 29 October 2019
(Comments Closed)
Hi folks, I was very short in time for workshop and blog entries in the past weeks, due to several reasons. But now I'm back on track and already working on the next project. So hopefully there'll be new content coming next week. Thanks & regards, Gerd
Hello followers, it was planned to exhibit my Hon30-layout during the 50 anniversary of the logging railroad of Abreschviller (France). Unfortunately, I'll not be able to attend the show. Never the less, my friend Bernd will be there with his modular layout which is build in the same manner as my layout. Over all, all […]
Posted by Gerd on Saturday, 13 April 2019
(Comments Closed)
Hello friends, here's a quick reminder. My Hon30 modular logging railroad "Waldbahn Eusserthal" will be on exhibition during the "Trainsmania" in Lille, France from May 3rd to 5th 2019. As before, Bernd Irion will join me with his layout Waldbahn "Grand Rommelstein" as he did last year.
Hello, today, I've another issue from my "Waldbahn Gazette", featuring the amazing "Waldbahn Horský Dolina". I found this railroad some years ago in a German model train forum (Stummi-Modellbahnforum) and this layout was a great inspiration for me to build my own logging railroad in the garden. The layout and rolling stock is built by […]