Posted by Gerd on Tuesday, 21 August 2018

Hello,
this week I like to show you the first structures for the station of "Ronja Springs". I already bought the kit for the water tank some month ago, even before I started on the garden railroad. I got it cheap on eBay. The kit is produced by Piko and represents a Rio Grande Southern style water tank, even if it's not 100% scale. As often on large-scale buildings, they are a size reduced to make them fit better to different scales and spaces. Finescale structures made from real wood would be much nicer for sure, but I've also to deal with the German weather, so I think the plastic kits made by Piko and Pola are a good compromise.
BTW, these are my first plastic kits in this scale and I'm very impressed by the detail and quality. The structures are rigged and I look forward for a long life on my layout. The water tank can be build functional for real water, but I didn't in my case.
The second kit comes from Pola. It's the "Silverton"-style sand house. Brake sand is dried and stored in a bunker on top of the structure from which it will be filled into the domes on the locomotives. And I couldn't resist to spend some weathering and color details to the plastic parts. I painted the bricks of the bunker walls for example and gave all wooden parts a dry-brush with gray paint. It improves the look of the plastic structures a lot.
I'm very proud about the sand house, which is a rare kit as it's not longer produced as well as all other "Silverton" kits by Pola. So it was a great that a bunch of such kits got offered on eBay some while ago and I was able to get all the kits I was looking for in boxed and new condition.  Next project will be the station building.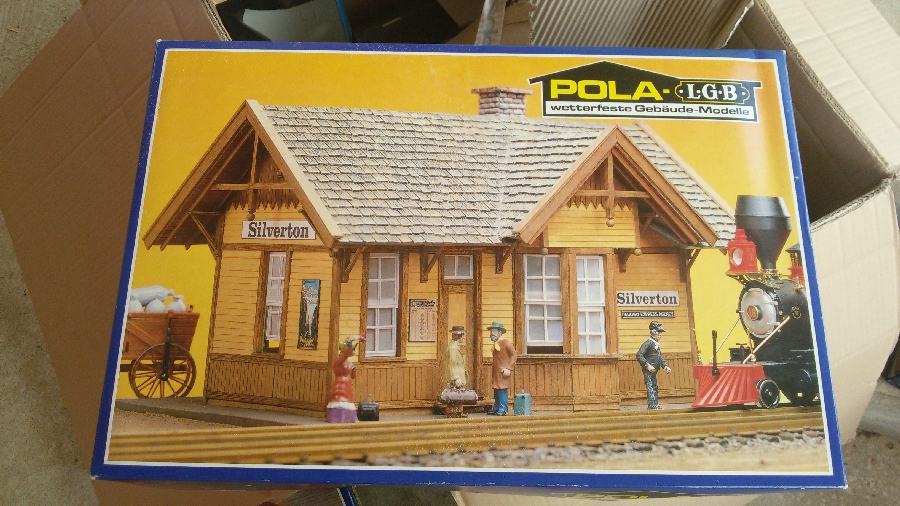 Cheers, Gerd