Posted by Gerd on Sunday, 2 December 2018

Hello,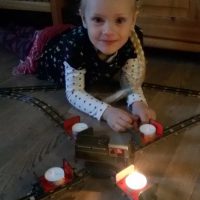 this year, I was very busy in many model railroad projects and I made good progress not only on my new garden railroad. At least, I attended more than 8 model train shows and exhibited my model train layouts.
With the beginning Advent time, I like to relax a little bit to gain more power and ideas for 2019. It's time for family and Xmas preparations. But don't be afraid, I'll continue this blog and my projects starting next year.
Until then, I'll revisit the main pages on my blog, spend some updates here and there and there are still some open questions regarding some details on my H0n30-layout, which like to get answered.
So stay tuned, enjoy the last month of 2018 with all its joy and contemplation and we'll see us again soon ;-)
Gerd