Hi folks,
with the chassis of the Budapest loco done so far, it's time to start the boiler. This will make it easier to design the boiler rest on top of the chassis and some other details.
I decided to use a combination of PVC pipe for the boiler with domes and made from steel. This will provide some weight to the loco, but keeps space inside the boiler for batteries and electronics.
The PVC pipe started with 60mm OD and 30mm ID. It was turned to shape on the lathe. Once the outer contures were finished, the rear portion was milled out to take the LiPo battery. I used the same setup to drill the mounting holes for the domes, stack and other parts. This way they are perfect alligned and uprigt on top of the boiler.
The smokebox door was made from scrap pieces. The door itself is turned out of steel wth some styrene pieces and Ozark detail parts. Next week, I might have some progress on the steam dome.
Gerd
Let's continue construction on the Budapest project ;-)
It's time to get the main frame assembled. The sheets for the front and back were made from ABS plastic again by using the same tools and techniques as on the side frames. I added diagonal U-profiles inside the frame to support the couplers, as it's found on the prototype. BTW, the couplers are the only 3D-printed part on this project.
The rail guards are bent from brass and screwed in place. Now it's time to add the motor unit and all the rods and valve gear. It took quite a while to get everything running smooth. The outside frame limits the side travel of the wheelsets and at the end, I added 0.5 shim washers to reduce the travel. Due to the limitations, the minimum radius of the chassis is 120cm (4)' which is still less than the prototypical 150cm it would need.
Beside the changes on the valve gear excentre I showed last week, I made some changes to the link hangers as well, changing the overall look more into Stephenson valve gear. The support arc for the cross head guides are assembled with brass angles.
I also shortened the side rod from the cross head to make everything fit. Now the main chassis is done so far. Many details are still missing, but I look forward for some trial runs. But I'm getting there step by step…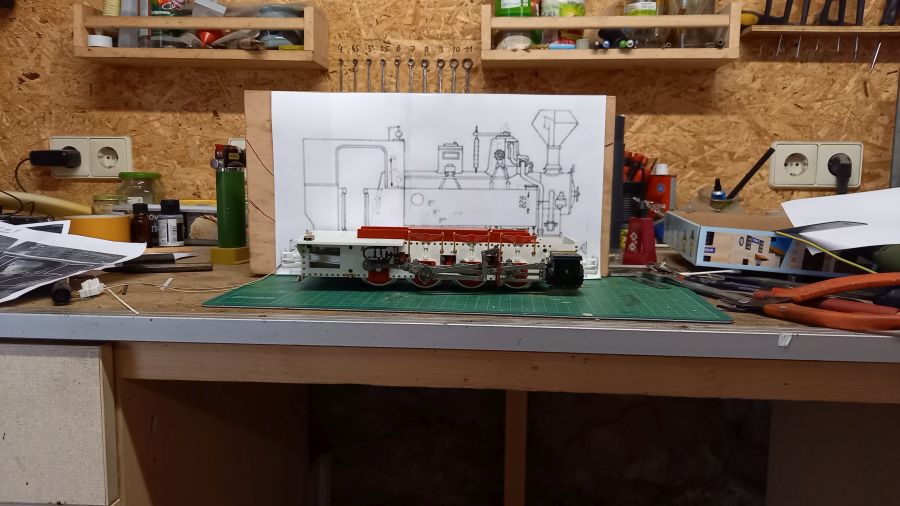 Gerd
For my new loco, I bought parts from a LGB IK loco to model the valve gear. Unfortunately, the excentre motion is rigged and moving separate. So, it was necessary for me to rebuild these parts into something more prototypical. First, I made some excentre discs from black POM (Delrin) on the lathe. I drilled […]
Welcome back in the workshop, today, I'll show you some changes I made to the cylinders. They came from the high-pressure chassis of the Tssd-Mallet (BR 99-633) and are cast in brass. This makes machining a bit difficult. As the basic form of the part does not match the Budapest-style, I relocated the valve-gear guide, […]
Hello fellows and welcome to a new loco build project here on my blog. When I finished my Krauss-loco 763-237, I immediately got the idea to build another one, using LGBs 0-8-0 chassis of the Ruegen-loco Mh53. This new loco should be based on the MAVAG type 85, also known as MAV-492. Such a loco […]